Annuities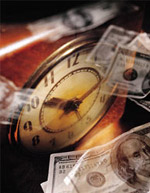 Fixed Annuities are financial contracts with an insurance company that are designed to be a source of retirement income. They earn a fixed interest rate for a specified period of time.
Because these are long term contracts, you want to make sure the company you purchase an annuity from is solid and stable. Ask us about our company's financial stability- it's important, and we think you should know! Don't wait to start your IRA- every day you delay costs you money!
We want to help you reach your financial goals!
Let us know when it's convenient, and we will sit down with you to answer any questions you have.